Transport & Fleet Management

GM Middle East (transport)
A number of compnaies benefitted from me implementing European management practice. Overall savings, reduced down improved safety.
Fleet Engineer
A world class manufacturer of commercial vehicles. The mission was to refurbish a flow of 6000 vehicles a year returned from contract hire and to recover costs in accordance with leasing contracts. The objective was to standardise the process for inspection, reporting, costing refurbishment, recharging the user where appropriate or the manufacturer when the user was not liable and finally distribution to re-sale outlets.
Transport Manager
Based in Wales this company is a division of an American parent company and trades in oil recycling.In addition to the day to day management of a tanker fleet and unionized drivers I managed, fleet leasing and maintenance contracts, tank & pump specifications, operators licenses and worked closely with the sales team.
Founder / Director
Automotive service/repair and commercial fleet maintenance.
Automotive engineering took me through various areas of the industry from Dealerships, Motor Sport, Utility fleets, Construction plant, Tanker fleet, Hovercraft. Along the way as an employee in a utility company I identified a need for maintenance out of normal hours and I set up a mobile business providing that service. After hours fleet maintenance from the back of a van was the seed that grew into a profitable business occupying premises in Cheshire and Mereyside.
News Paper ad' from the 90s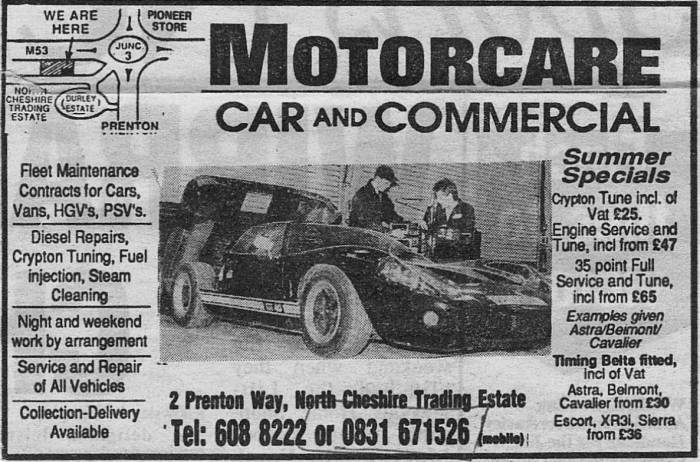 - Yes that was my own GT40