Concrete construction - Nigeria

The project began in Texas where I was a part of a small engineering team that re-manufactured a 720 ton hydraulic plant to mass produce pre-fabricated concrete homes at nine per day.
Accompanied by and electrician and welder I re-built the hydraulic systems all of which was completed to plan followed by the transportation of the plant by road to Huston and shipped to Nigeria.
Nine sections of about 80 tons each were transportable on the wide Texas roads even if the Nigerian roads and low slung power lines proved to be a little more time consuming. There were over 3600 hydraulic hoses, remotely controlled valve blocks and thousands of feet of hydraulic pipe and joints to be replaced. The chassis and most of the metal structure was retrievable although there were weeks of welding to be done in repairs and modifications.
Under construction in Texas

The gantry to lift out a completed concrete home.
You may also be interested in links to free education launched by a dear friend of mine
Jason must have taken the picture but here we have
(left to Right) Larry, Me, Clay & Rob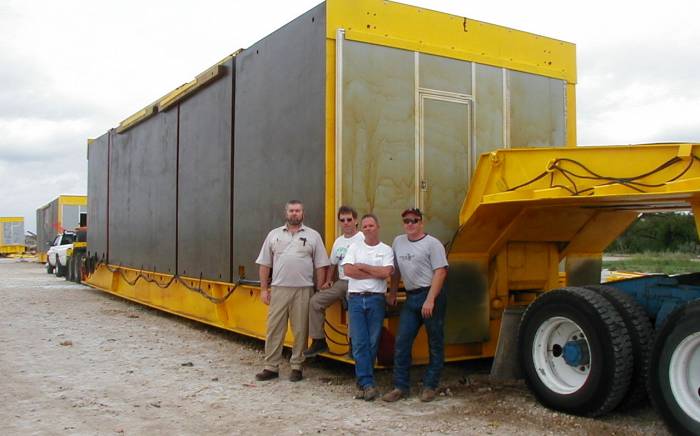 Pre-Commissioning before the plant left the site confirmed the successful refurbishment of the hydraulic and electrical systems. Consisting of 9 moulds with hydraulic walls and ceilings to release the cast, door and window blanks were inserted, plumbing and wiring looms were installed before pouring concrete leaving only internal fittings to complete a home in just a few hours. The plant was capable of producing nine homes a day by using a steam curtain to accelerate hardening of the concrete. Each casting had locating pegs and sockets making it possible to stack the castings into a low or high rise formation.

First section leaving San Antonio for Nigeria

750 horse power pulling the load

Leaving Houston Texas
Arriving at Lagos Nigeria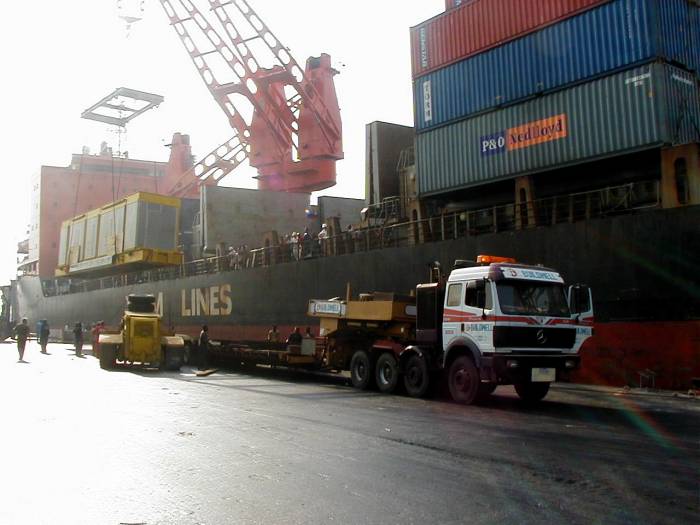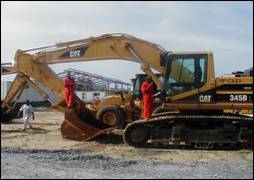 Low overhead power lines in Lagos

.

During the shipping phase the team and I went ahead and prepared the 400 hectare site for city development on the Nigerian coast. Maintenance systems for $40m of transport and construction equipment that fel lunder my control.
Mechanics Joshuah & Friday servicing a CAT 348 & CAT 360
The environment in Nigeria can be threatening with nightly armed robbery, car jacking and disease all around.Our American pick up trucks with tinted glass and permanent side lights were stopped daily by armed police and our drivers fined (cash) on the spot for window and lighting infringements introduced to coincide with our arrival ..
Yours truly

quenching a thirst on Coconut milk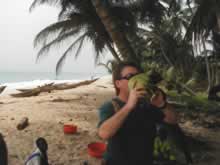 The fleet of Caterpillar and Mercedes imported into Lagos the nearest port, were fuelled at the fuel station we built as a part of the development. 150 tons of fuel was consumed during set up stage, building materials sourced in neighbouring states continued to arrive after the set up team moved on.
Accused of theft and burned on the spot without trial.
Nigeria is not a safe environment