3PL & Retail PoS installations
Operations Director
Retail logistics & Installation of POS (point of sale) equipment A new start project providing the project management of multi site installations of POS into retail outlets.
- - - - - - - - - - - - - - - - - - - - - - - - - - - - - - - - - - - - - - - - - - - - - - - - - - - - - - - - - - - - - -
(a similar role to that above but a more established company)
This 10 year old company had grown to be a market leader in the retail POS industry through an highly effective sales team but sometimes a combination of enthusiastic sales people coupled with more novice than competent project managers failed to satisfy the customer's expectations.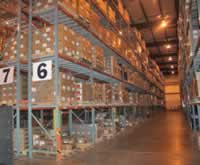 I was invited to join the company as Head of Operations. Their business is the project management of multi site installations of display and point of sale equipment into retail outlets involving detailed project planning, fast moving warehousing, accurate stock control, just in time distribution, quality control and the development of web based reporting systems and customer portals.
The company had been trading successfully for about ten years and grown steadily but directors wanted more rapid growth and of course more quality from the project team. I was asked to provide the processes to achieve that.
It became obvious quite quickly that they had process and personnel management flaws stemming back to the early days of growth and recruiting friends neighbours and drinking buddies. There was a high turnover of demotivated staff, no safety management, environmental policy and no one qualified or capable to manage an operators license for goods vehicles.
Directors did recognised the need to establish management systems more in line with their current business. I headed the management team covering operational aspects of the business. The processes and reporting systems I introduced provided the foundation for continual improvement.
The NVQI for PoS installers I developed and submitted on behalf of the formerly unrecognised industry was welcomed by the training standards board and the awarding body City & Guilds. Unqualified project managers were offered Prince 2 training. Sustainable processes and sequential working practices were implemented. Tenders began to included more than just figures in an e mail they now demonstrated the company's commitment to changing legislation and to the welfare of employees and stake holders.
Within two years turnover was substantially increased, possibly doubled. Risk was minimised by revised terms of business, and disaster recovery planning. Health & Safety and environmental management systems were accepted and supported by the workforce. Transport was operating legally and I'd achieved significant reductions in fleet costs.
Major brands associated with this company included Tesco, Orange, Woolworths, GM, M&S, Abbey, HSBC, Gillette and a host of household names.